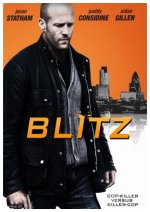 With an insidious serial killer known as "the Blitz" on the loose in London, Detective Brant (Jason Statham) takes to the case while working out his own aggression issues with a police-appointed psychiatrist. But when he and his partner (Paddy Considine) eventually corner a suspect, they don't have enough evidence to apprehend him. Elliott Lester directs this frenetic crime thriller based on a novel by Ken Bruen.

10










Not the classic Statham action. Instead, had a bit more of a story and emotional charge than his usual. Really good movie though, just needed about 20 more minutes to further develop the story.
27










The opening is good, but after that it hits a lull and continues to be incredibly slow for the rest of the film, with a few action sequences. The many scenes intended to flesh out the characters just end up being bland filler.