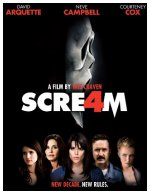 Perennial survivor Sidney Prescott, now a successful self-help author, returns to her home town of Woodsboro in the fourth act of director Wes Craven's Scream franchise. Sidney's homecoming, however, coincides with a slew of unsettling new murders.

27










This was actually on par with
Scream 2
until the last 10 minutes - when the 'alternate ending' took the plot completely off the rails. The cast was pretty good, but Emma Roberts sounds really stilted when she tries to deliver serious dialogue.