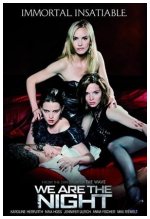 Following a sect of seductive female vampires that hide out in Berlin's alternative clubs, enjoying the luxury and pleasures their attained immortality provides them and wreaking horror on a string of unsuspecting victims, the film is a brilliantly stylized vision of the classic vampire myth -- a sensual, charismatic thrill ride fascinated with all aspects of the night.
Foreign, Supernatural
27










Foreign with subtitles. A solid flick with classic vampires and a decent plot - unfortunately the ending was rather predictable and uninspired. The cast is good and the film is visually interesting.