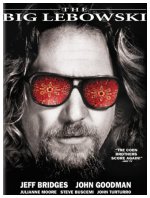 Slacker Jeff "The Dude" Lebowski (Jeff Bridges) gets involved in a gargantuan mess of events when he's mistaken for another man named Lebowski, whose wife has been kidnapped and is being held for ransom. All the while, Dude's friend, Walter (John Goodman), stirs the pot. Brothers Joel Coen and Ethan Coen write and direct this cult comedy classic that also stars Steve Buscemi, Philip Seymour Hoffman, Julianne Moore and John Turturro.
Comedy

16










Hilarious, well-done movie, I've seen it many times and expect to see it many more. Good soundtrack, lots of little details, Coen brothers at their comedic peak

9










Cult classic. Should be seen at least once. Otherwise you won't know what to do if someone urinates on your rug.
27










The cast is pretty good - crazy movie. Julianne Moore and Steve Buscemi are great. The movie itself was just okay, but the ending was pretty good.