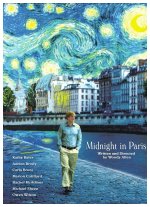 In this bittersweet dramatic comedy, legendary director Woody Allen focuses his lens on a young engaged couple whose experiences traveling together in Paris make them begin to question the kind of life they want to live as a couple.
Drama, Romance
27










It wasn't great, but out of the Woody Allen films I've seen this was more drama and less about obscure topics. All-star cast, as usual for his films.

15










A bit of an odd, quirky movie, but Owen Wilson pulls off his usual entertaining characterization, while McAdams only annoys. An ideal escape movie with some time travel and romance thrown in. Marion Cotillard is mesmerizing.