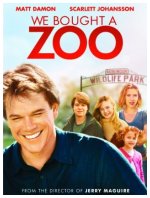 In this adaptation of Benjamin Mee's memoir about buying and saving a run-down zoo, the locale shifts from Britain to southern California. However, the wacky spirit of the original is retained, complete with escaped tigers and a zoo crew of misfits.
Children, Comedy, Drama

2










So its a comedy its about letting wilds escape i think.

15










Thought this would be super hokey, but was pleasantly surprised. Damon is always top rate, but this is the first time I've appreciated Johansson's acting, and little Jones is mesmerizing. Made primarily for kids, but also enjoyable for adults.