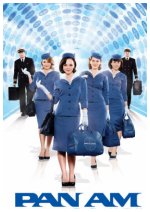 Set during the 1960s heyday of glamorous international air travel, this TV drama follows the steamy, secretive lives of freewheeling pilots and stewardesses working for the era's premier airline: Pan American World Airways.
Drama, TV
27










Out of all the ideas they could have for a drama about 60's pilots and stewardesses they had to go with a spy plot? Side note: I've never seen an airplane with aisles as wide as a hallway. On the upside, at least the cast portrays the retro feel well
No comments found, be the first!