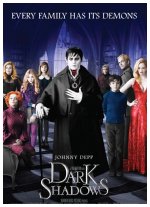 Tim Burton's take on the cult gothic soap follows a centuries-old vampire as he returns to his now-crumbling estate to meet his modern descendants. But what he finds is a house full of secrets and shadows.
Comedy, Supernatural
27










Most of the movie was solid but not great, with a few scattered amusing moments. The rather trippy finale was entertaining though. Chloe Moretz's character seemed a bit out of place and extraneous - they should have scripted her differently.