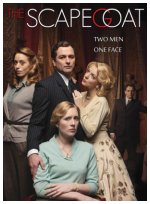 In 1952 two very different men meet by chance in a station bar. They are almost exact replicas of each other and are both at a crossroads in their life - one setting out on a walking tour after losing his job as a teacher and the other avoiding home after a disastrous business venture. Stepping literally into his double's shoes, John the inexperienced schoolmaster is suddenly responsible for a crumbling stately home, and a failing business.
Book, Drama, Thriller
27










There are a lot of stories where two people swap places, but this one was well acted and had an interesting cast of characters. The intriguing plot and time period helped too. Wouldn't have minded if it lasted longer than two hours!