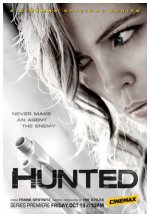 From "X-Files" writer and producer Frank Spotnitz comes this eight-episode drama set in the world of international espionage. Golden Globe nominee Melissa George stars as an operative for an elite private intelligence firm who survives an attempt on her life that may have been orchestrated by members of her own team; when she returns to work, she doesn't know who to trust.
Spy, TV
27










Melissa George does a decent job, but the interesting plot is what really makes this spy thriller engaging.
No comments found, be the first!