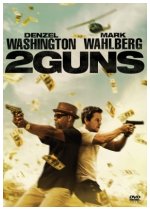 When an attempt to take down a drug cartel blows up in their faces, two undercover operatives are forced to go on the run together, though neither knows that the other is a federal agent. Suddenly, everyone on both sides of the law wants them dead, and their only hope is to trust each other.
Action, Heist
27










Denzel Washington and Mark Wahlberg have fantastic chemistry, and the supporting cast of this action flick is pretty great too. They even managed to throw a bit of humor in without making it seem out of place - an all-around good film.
No comments found, be the first!