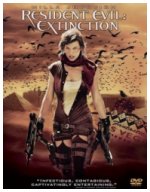 Resident Evil: Extinction
2007










In the final installment of the Resident Evil series, Milla Jovovich returns as zombie-killing soldier Alice, who's left to roam the ruins of Las Vegas with a small band of survivors when a string of viral outbreaks nearly wipes out humankind. Alice has always been obsessed with bringing down the Umbrella Corp. but now must battle the undead -- and her extinction. Oded Fehr, Mike Epps, Ali Larter and rhythm-and-blues singer Ashanti also star.

Adventure, Fantasy, Horror, Sci-Fi, Supernatural
27










The third in the
Resident Evil
series. By this point the franchise is getting a little tired, but there may still be a fourth movie on the horizon.