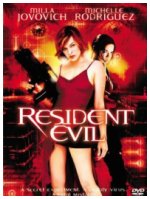 When a virus leaks from a top-secret facility, turning all resident researchers into ravenous zombies and their lab animals into mutated hounds from hell, the government sends in an elite military task force to contain the outbreak. Alice (Milla Jovovich) and Rain (Michelle Rodriguez) are charged with leading the mission. But they only have three hours before the pathogen becomes airborne and infects the world.

Action, Fantasy, Horror, Sci-Fi, Supernatural, Thriller

11










You will like this if you approach it as a zombie film. You will however not like it nearly as much if you approach it as a faithful representation of the video game series storyline.
27










Awesome zombie flick, the only downside is that it clearly sets up for a sequel. The upside to this is that the sequels aren't bad - not as good as the first but not bad.