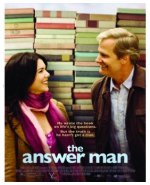 He wants to be left alone, but Arlen Faber (Jeff Daniels), author of a best-selling book about spirituality, finds himself harassed by single mom Elizabeth (Lauren Graham) and recovering addict Kris (Lou Taylor Pucci), who think Arlen can solve their problems. Arlen knows he has no real answers, but as he and Elizabeth fall in love, they all discover hope in unexpected places. John Hindman directs this romantic drama.
Comedy, Drama, Indie, Romance
27










This seemed like two different movies - the first half as a comedy, the second as a romance. Unfortunately it somewhat succeeded in the first aspect and completely failed at the second. The cast was good but Jeff Daniels acting was a bit off.