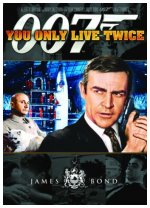 After American and Soviet spaceships disappear, the two countries trade blame for the incidents. As the nations edge toward war, James Bond (Sean Connery) finds himself in the middle of another international mystery. After staging his own death, Agent 007, with Tiger Tanaka (Tetsuro Tanba) and the beautiful Aki (Akiko Wakabayashi), discovers that the leader (Donald Pleasence) of the SPECTRE crime organization orchestrated the events.

Action, Adventure, Classic, Spy, Thriller
27










Besides the long gun fight and aerial skirmish this feels the closest to
Dr. No
out of all the Sean Connery 007 films. It has a bit less sophistication, but still a great Bond feel.