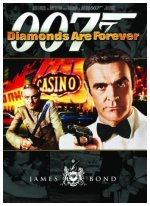 Diamonds Are Forever
1971










When he discovers that his evil nemesis, Blofeld (Charles Gray), is stockpiling the world's supply of diamonds to use in a deadly laser satellite, secret agent James Bond (Sean Connery) sets out to stop the madman, with the help of beautiful smuggler Tiffany Case (Jill St. John). Connery's final turn as Bond (until 1983's unofficial outing, Never Say Never Again) boasts the gadgets, gunplay and girls that symbolize the heyday of the 007 series.

Action, Adventure, Spy, Thriller
27










Nice to see Sean Connery back, but for most of the plot the enemy seems rather pedestrian compared to
Dr. No
or
You Only Live Twice
. The explosion effects are also exceptionally bad - even for a movie this old.