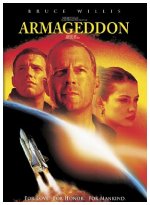 As a massive asteroid hurtles toward Earth, NASA head honcho Dan Truman (Billy Bob Thornton) hatches a plan to split the deadly rock in two before it annihilates the entire planet, calling on Harry Stamper (Bruce Willis) -- the world's finest oil driller -- to head up the mission. With time rapidly running out, Stamper assembles a crack team and blasts off into space to attempt the treacherous task. Ben Affleck and Liv Tyler co-star.
Action, Adventure, Disaster, Fantasy, Sci-Fi, Thriller

11










Highly entertaining, i felt it was kind of corny in some parts, but other than that it was good.