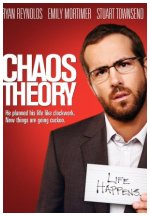 Thanks to a strict regimen of timetables, to-do lists and index cards, efficiency expert Frank Allen (Ryan Reynolds) lives his life exactly how he wants it. That is, until his well-meaning wife (Emily Mortimer) decides to set their clock back a mere 10 minutes. Suddenly, Frank's once-safe and predictable life is spinning dangerously out of control … which is the one thing he never bothered to plan for. Stuart Townsend and Sarah Chalke co-star.
Drama, Romance

11










A good drama movie here with fairly good acting. The plot has several little twists that you will not be expecting.
27










A solid drama with some comedy thrown in. Hectic in a pleasantly surprising way, with several scenes that could have taken a cliche turn, but the story went unexpected directions instead.