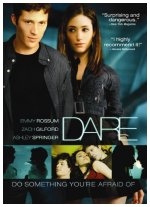 In their final semester before graduation from an affluent suburban high school, good girl Alexa (Emmy Rossum), outcast Ben (Ashley Springer) and bad boy Johnny (Zach Gilford) decide to shed their youthful inhibitions and take some very grown-up risks. A twisty tale of betrayal, heartbreak and unleashed sexuality ensues in director Adam Salky's unique teen drama, which premiered at the 2009 Sundance Film Festival.
Drama, Indie, Thriller
27










Emmy Rossum is a good actress, she does a great job in the many roles she plays in this movie. Some of the most troubled characters I've seen in a long time. The story pretends to be about growing up, but in the end you still see lost children.