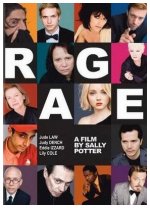 A young blogger attempts to document the inner workings of a top New York fashion house in the week leading up to a major show, but his behind-the-scenes interviews take on much greater significance when a runway model is murdered. A celebrity supermodel (Jude Law), a war photographer (Steve Buscemi), a critic (Judi Dench) and other personalities share their versions of the week's events in Sally Potter's darkly comic riff on the information age.
Drama
27










Interesting concept, but not really a movie - just people sitting in front of a green screen talking to the camera. I feel like they took the screen tests from
The Devil Wears Prada
and turned them into an art project.