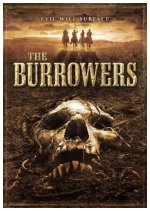 When the men on a pioneer homestead are brutally murdered and the women and children go missing, a posse sets out to find them, assuming they've been abducted by Indians. But the truth turns out to be much more horrific. As they find more bodies, it soon becomes clear that something from beneath the ground is brutally attacking humans. Clancy Brown, William Mapother and Sean Patrick Thomas star in this horror film set in the Wild West.
Horror, Western

14










"The Burrowers" is one of those rare attempts to blend a historical setting with a horror story and it doesn't work, pleasing neither fans of horror or of westerns. The film's pacing is slow and the scares are shallow at best making it just a bore.
No comments found, be the first!