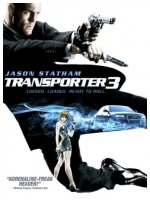 Buckle up and hold on tight for the third installment of the action-packed Transporter franchise, which follows the rousing adventures of mercenary driver Frank Martin (Jason Statham), who makes his living by delivering important cargo … no questions asked. Co-written by French director Luc Besson, Transporter 3 brings back co-star François Berléand and welcomes Robert Knepper to the series' cast.

Action, Adventure, Thriller
27










Jason Statham is fine as usual, but the supporting cast is really weak in this sequel. Robert Knepper does shine as the villain though, a perfect role for him.
Transporter 2
is still the best in the series