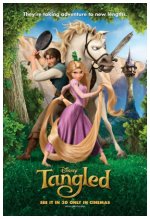 Disney animators take on the classic Grimm Brothers story of Rapunzel (Mandy Moore), a long-locked beauty imprisoned in a secluded tower by evil hag Mother Gothel (Donna Murphy), who needs the rejuvenating powers of Rapunzel's tresses to remain young. When a puckish bandit on the lam (Zachary Levi) helps Rapunzel escape, the old crone plots to recapture her and end her budding romance with the thief. Other celebrity voices include Ron Perlman.

Animation, Book, Children

15










Absolutely classic Disney perfection in every way. Saw it in 3D, which enhanced the experience even more. Unbelievable animation.
27










Another good addition to the Disney collection, on par with their best fairy tale cartoons like
Aladdin
. There were three or four musical interludes that seemed really long, but overall it was a good production.