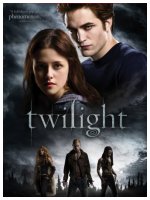 When Bella Swan (Kristen Stewart) moves to a small town in the Pacific Northwest to live with her father, she starts school and meets the reclusive Edward Cullen (Robert Pattinson), a mysterious classmate who reveals himself to be a 108-year-old vampire. Despite Edward's repeated cautions, Bella can't help but fall in love with him, a fatal move that endangers her own life when a coven of bloodsuckers try to challenge the Cullen clan.

Book, Drama, Horror, Supernatural, Thriller
Related Titles
Random Titles

1










best film i've ever watched, absolutley amazing, i would strongly advise you to watch this film, amazing how it was made, but could be quite scary for a youngster. The characters were outstanding.
No comments found, be the first!

10










I'm in love with Vampires, but this was a disgrace. No fangs? Sparkles in the sun light? GAY!
27










I'm not a huge fan of this new friendly vegetarian vampire genre. Definitely doesn't help that the movie was over-hyped and marketed to girls.

12










For what i kind of consider a girl movie lol, i like the twighlight movies they came out alot better then what i though orgionally. id buy them on dvd for myself deffinatly

11










Omg, like, Edward is so hott. Reviewing this because having it on the site might add some traffic. Dense, shallow plot with melodramatic acting and very underwhelming action scenes, of which there are very few to begin with.