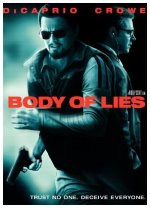 Newly stationed in Jordan, idealistic CIA agent Roger Ferris (Leonardo DiCaprio) teams up with veteran operative Ed Hoffman (Russell Crowe) and the head of Jordanian intelligence (Mark Strong) to infiltrate an underground network of terrorists and locate a criminal mastermind. Based on the best-selling novel by David Ignatius and directed by Ridley Scott, this suspenseful spy thriller features top-rate performances and explosive action sequences.
Book, Drama, Spy, Thriller
27










Decent drama about terrorism in the middle east from the point of view of a CIA field agent. Leaned more toward realism - not a lot of gun battles and combat scenes - consequently it was interesting but not super exciting.