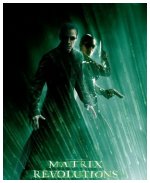 The Matrix Revolutions
2003










This action-packed finale of the Wachowski brothers' trilogy finds an unconscious Neo (Keanu Reeves) trapped in Mobil Avenue, a subway station in an intermediate zone between the Matrix and the machine world that's controlled by the Trainman (Bruce Spence). Trinity (Carrie-Anne Moss) and Morpheus (Laurence Fishburne) try to free Neo so he can lead the fight to save Zion, but a powerful enemy complicates their mission. Monica Bellucci co-stars.

Action, Fantasy, Sci-Fi, Thriller

16










Really disappointing. For some reason I was expecting this movie to pick up Reloaded's many dangling plot threads. Boy, did that ever not happen.
27










Matrix 2 & 3 stomped all over the nuanced story that was
Matrix
. A travesty, and it would be best just to watch the first in the series and forgo the sequels.