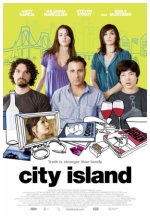 When he recognizes his son Tony (Steven Strait), whom he hasn't seen in over 20 years, among a crop of new inmates in the jail he works at, Vince Rizzo (Andy Garcia) decides to bring the troubled young man home with him, much to the surprise of his wife and kids. Helmed by writer-director Raymond De Felitta, this offbeat comedy also stars Julianna Margulies, Emily Mortimer, Dominik Garcia-Lorido and Oscar winner Alan Arkin.
Comedy, Drama, Indie
27










Emily Mortimer isn't bad, but the character she plays is a bit out of place with the rest of the cast. Her character is actually slightly Holly Golightly (from
Breakfast at Tiffany's
).