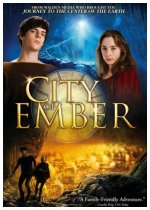 Bill Murray and Tim Robbins head the cast in this sci-fi fantasy set in Ember, a city illuminated only by artificial light. When the town's generator begins to fail, two teens (Harry Treadaway and Saoirse Ronan) race to save Ember's citizens from darkness by solving an old mystery. Martin Landau, Toby Jones and Mary Kay Place also star in this eye-popping metaphorical tale based on Jeanne Duprau's best-selling novel.
Book, Children, Drama, Fantasy, Sci-Fi
27










An intriguing premise and group of characters make this film worth watching, though the crazy grandmother made me roll my eyes. The film was also a bit slow in the middle, with an anticlimactic ending.