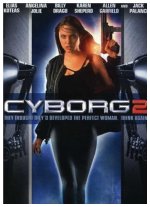 Angelina Jolie stars in this sci-fi sequel as the humanlike cyborg Casella "Cash" Reese. Cyborg manufacturer Pinwheel Robotics plans to eliminate its competition by exploding the self-detonating Cash at the company's upcoming conference. Cyborg Mercy (Jack Palance), however, saves Cash from self-destruction. Now, Cash and the human martial arts trainer she's fallen for (Elias Koteas) must escape from a cyborg tracker.

Action, Fantasy, Sci-Fi
27










Angelina Jolie was pretty weak in the beginning; luckily Jack Palance gives an interesting performance - making this plot into a movie that's almost worth watching.