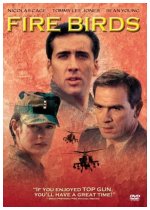 The Apaches are an elite flight corps trained by the U.S. Army to attack from the skies. With a national enemy threatening the country with high-tech weaponry, the men who fly the decidedly unfriendly skies risk everything to protect America. But will their efforts be enough the stop the scourge? This action-packed adventure stars Nicolas Cage, Tommy Lee Jones and Sean Young.
Action, Adventure, War
27










Nicolas Cage delivers one of his worst performances in this film, not even Tommy Lee Jones can rescue it with his gruff performance. An acceptable plot with action sequences that run a bit long.