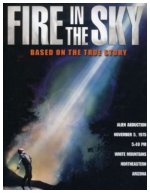 In this drama based on a true -- and astonishing -- story, Travis Walton (D.B. Sweeney), an Arizona logger, is driving through the countryside at night with his friends when he's struck by a brilliant bolt of energy beaming from the sky and then disappears for several days. When he returns, he claims he was abducted by aliens and spent the week on their ship. Co-stars Peter Berg, James Garner, Robert Patrick and Craig Sheffer.
Drama, Fantasy, Sci-Fi

10










This film highlights the real life aspects, emotions, and traumas of an abduction story rather than the fantasy. Though actual sci-fi sequences are sparse, they are convincing especially if you remember the movie is entirely based on true accounts.