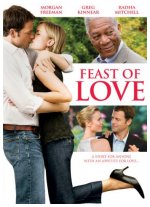 Morgan Freeman, Greg Kinnear, Selma Blair, Radha Mitchell and Billy Burke co-star in veteran director Robert Benton's (Kramer vs. Kramer) charming ensemble drama about a coffee shop and the various lives that intersect there. Set in a small, idyllic Oregon community -- and based on the popular Charles Baxter novel -- the film explores the depths of love and loss, joy and pain, and everything in between.
Book, Drama, Romance
27










The title Feast of Sex would have been more appropriate. Morgan Freeman was great but I felt like the beginning was spastic, jumping between relationships. Radha Mitchell and Greg Kinnear were good, the film should have just been about them.