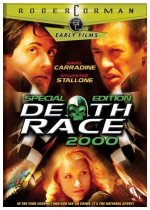 Paul Bartel (Cannonball!) directs this sci-fi cult classic about the deadly and brutal Transcontinental Road Race in which rivaling teams travel across America scoring points by offing innocent people. Taking place in a futuristic 2000, the competition becomes national entertainment as Frankenstein (David Carradine) goes toe-to-toe with "Machine Gun" Joe Viterbo (Sylvester Stallone). Simone Griffeth and Mary Woronov co-star.
Action, Classic, Fantasy, Sci-Fi

14










The concept for the film is great but the execution literally had me dozing off. How one makes a film about a cross country race where running over pedestrians garners you points is beyond me but somehow Death Race 2000 did.