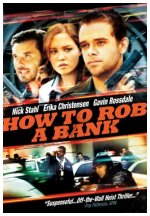 Lackadaisical bank customer Jinx (Nick Stahl) and bank teller Jessica (Erika Christensen) find themselves ensnared in a robbery gone wrong. Locked in the vault, they try to sort things out, but just who are the robbers -- and who are the victims -- in this crazy heist? Will the mastermind pulling the strings be revealed? Writer-director Andrews Jenkins's unusual take on the bank-robbery genre will have you guessing till the very end.
Action, Comedy, Heist
27










Felt low budget but it has a great cast, good dialog and camera work. Not an action movie, more of a suspense/comedy. One big plot hole - how to get the money in the end. Aside from that it was a fun film.