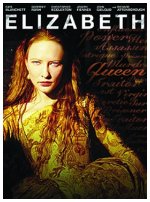 Shekhar Kapur's Oscar-winning treatise on absolute power and its human toll sees fledgling queen Elizabeth I (Cate Blanchett) sacrificing happiness with her lover (Joseph Fiennes) for her own safety and placing her trust in her stealthy "spymaster," Sir Francis Walsingham (Geoffrey Rush). The so-called "Virgin Queen" took the throne of a Roman Catholic country, declared the nation Protestant and ruled for 45 years -- but at great personal cost.
Biography, Drama, Foreign
27










Cate Blanchett is intriguing in this gritty drama about the political battles surrounding Queen Elizabeth. The very end did seem like a psychotic break from the rest of the film though - without any interlude or explanation.