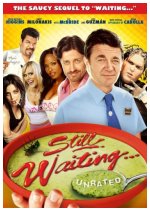 After Shenaniganz loses all its hottest waitresses to new competitor Ta-Ta's Wing Shack -- where the scantily clad wait staff earns bigger tips -- the Shenaniganz staff aims to give Ta-Ta's its just desserts. This sequel to the 2005 indie-comedy hit welcomes back familiar faces, such as Nick (Andy Milonakis), Natasha (Vanessa Lengies) and Calvin (Rob Benedict), and features cameos by Justin Long, Adam Carolla and Luis Guzmán.

Comedy
27










I didn't expect this to be as good as
Waiting...
, but it turned out to be the worst sequel I've ever seen. If it hadn't been bad overall Steve Howey would have single-handedly ruined the movie.