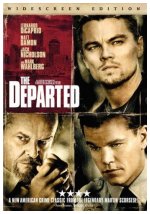 To take down South Boston's Irish Mafia, the police send in one of their own to infiltrate the underworld, not realizing the syndicate has done likewise in Martin Scorsese's multiple Oscar-winning crime thriller. While an undercover cop (Leonardo DiCaprio) curries favor with the mob kingpin (Jack Nicholson), a career criminal (Matt Damon) rises through the police ranks. But both sides soon discover there's a mole among them.
Drama
Click here to view 1 long reviews of this item

11










This is packed with good actors and heavy action. It was entertaining for me, worth a watch for sure.