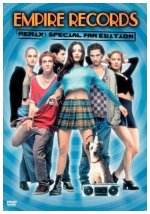 This Allan Moyle comedy -- which ultimately gained cult status among die-hard fans -- captures a day in the life of a record store that doubles as a meeting place for young slackers, dreamers and doers. When a clerk (Rory Cochrane) gambles away the store's cash, the boss (Anthony LaPaglia) tries to recoup his losses. Meanwhile, flirty Gina (Renee Zellweger) provides a counterpoint to love-struck Corey (Liv Tyler), who's crushing on a co-worker.
Comedy

15










Too much teenage angst for me. Some portions acted very well, other parts poorly. Enjoyed LaPaglia's devotion to the kids and Cochrane's deadpan but mesmerizing delivery best.
27










Like a modern version of
The Breakfast Club
this fun character piece has a great cast and an excellent soundtrack.