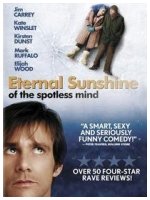 Eternal Sunshine of the Spotless Mind
2004










After learning that his mercurial ex-girlfriend, Clementine Kruczynski (Kate Winslet), has undergone an experimental medical process to purge all memories of him, mild-mannered Joel Barish (Jim Carrey) opts for the same procedure. But during the operation, he decides he doesn't want to lose what's left of their relationship and tries to conceal her image in his memory cells. This quirky romantic comedy won an Oscar for Best Original Screenplay.
Comedy, Drama, Fantasy, Romance

16










Great movie, entertaining but gets at you in a very personal way. Shows that Jim Carrey can be a solid actor; let's see him in some more roles like this!