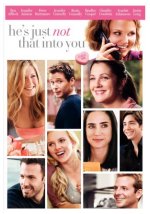 He's Just Not That Into You
2009










Jennifer Aniston, Drew Barrymore and Scarlett Johansson lead an all-star ensemble cast of characters dealing with the pitfalls of love and human interaction in this big-screen adaptation of Greg Behrendt's best-selling book. Set in Baltimore, director Ken Kwapis's film moves swiftly between a host of storylines brought to life by a stellar lineup of actors that also includes Jennifer Connelly, Ben Affleck, Ginnifer Goodwin and Justin Long.
Comedy, Romance

15










Enjoyed this more the 2nd time around after having read the book. Appreciated Jennifer Connelly's strong performance, some of the others not quite up to par. Presumably women would enjoy this movie more than men.
27










Resembled
Valentine's Day
; Great cast, poor execution - the script was tragically bad. The advice tone of the film slowly transitions into a romantic drama, then unexpectedly concludes with the same tired romantic cliches. Everyone is happy, the end.