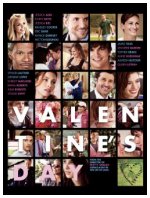 The tripwires of modern love are exposed in a romantic carousel involving five relationships on Valentine's Day in this Los Angeles-set romantic comedy from director Garry Marshall, starring Julia Roberts as an Army officer visiting from Iraq. Ashton Kutcher plays a florist who realizes he's just proposed to the wrong woman, while Jennifer Garner plays the right woman -- who's just discovered that her boyfriend is married.
Comedy, Romance

7










my favorite actress jennifer garner and my favorite actor ashton kutcher were both in this movie, loved it :)
27










Queen Latifah, Anne Hathaway, and Jessica Biel are great, but the rest of the cast is less than average or in some cases a total disaster. Portrayed as hilarious by the trailers - was really just an extremely sappy grab at holiday date money.