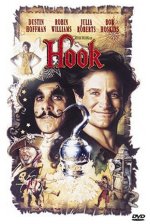 The boy who wasn't supposed to grow up -- Peter Pan -- did just that, becoming a soulless corporate lawyer (Robin Williams) whose workaholism could cost him his wife and kids, in this family-oriented fantasy from director Steven Spielberg. But a trip to see Granny Wendy (Maggie Smith) in London, where the vengeful Capt. Hook (Dustin Hoffman) kidnaps Peter's kids and forces Peter to return to Neverland, could lead to a chance at redemption.
Adventure, Book, Children, Fantasy, Sci-Fi
27










One of Disney's best non-animated films - Julia Roberts, Robin Williams, and Dustin Hoffman all do a fantastic job! Lots of fun for kids and adults alike, though the first half is so good that the ending pales a bit in comparison.