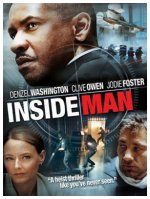 Dispatched to the scene of a bank robbery, detective Keith Frazier (Denzel Washington) must match wits with a cunning thief (Clive Owen) who's always one step ahead of the cops. When a loose-cannon negotiator (Jodie Foster) is called on for help, the unstable situation spins out of control. Keith soon finds himself questioning the motives of everyone around him. Spike Lee directs this taut heist thriller about the perfect crime gone wrong.
Action, Adventure, Heist, Thriller

11










Good movie with a wild twist of events, attention grabbing. You will enjoy this one, it is worth the time.