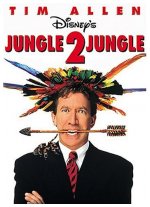 This classic fish-out-of-water comedy romp stars Tim Allen ("Home Improvement") as an uptight New York exec, who pursues his soon-to-be ex-wife (JoBeth Williams) to South America and returns to the big city with the son he never knew he had -- a son raised in a tribal village in Brazil. Armed with only his blowgun, the 13-year-old Mimi-Siku (Sam Huntington) discovers the world outside his jungle home is indeed a strange place.

Adventure, Children, Comedy
27










A slightly silly Tim Allen comedy, probably pretty funny for kids though. The Mafia seemed a little out of place, but besides that it was a decent story with a feel-good ending.