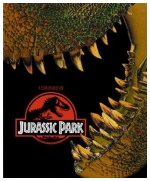 A multimillionaire (Richard Attenborough) unveils a new theme park where visitors can observe dinosaurs cloned using advanced DNA technology. But when an employee tampers with the security system, the dinosaurs escape, forcing the visitors to fight for their survival. Sam Neill, Jeff Goldblum and Laura Dern star in this thrilling, action-packed blockbuster from acclaimed director Steven Spielberg and based on the novel by Michael Crichton.

Action, Adventure, Book, Drama, Fantasy, Sci-Fi, Thriller
27










Laura Dern and Jeff Goldblum are entertaining in this cool film. The kids are rather annoying in parts and a few parts are over-dramatic, but it's a good adventure film - the CGI and effects are pretty good for a 15+ year old movie.