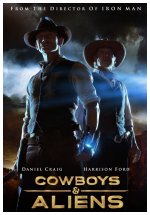 Scott Mitchell Rosenberg's graphic novel series leaps to the screen as amnesiac gunslinger Jake Lonergan (Daniel Craig) stumbles into the Wild West town of Absolution, where he's confronted by potent enemy Col. Dolarhyde (Harrison Ford) and a terrifying problem: invading aliens. Aided by the lovely Ella (Olivia Wilde), Jake rallies a posse of the townspeople, Dolarhyde's minions and local Apache warriors to fight off the extraterrestrial threat.
Action, Adventure, Sci-Fi, Western

22










an entertained movie, kind of a strange combination between cowboys and out of space aliens, but all and all keeps you entertained, Daniel Crieg acting was good and beautiful Olivia Wilde is another reason to see this movie.
27










The gold MacGuffin was odd, and Harrison Ford wasn't very good - the rest of the cast was okay. Storywise it was passable in parts, plodding in others - at least the flying machines were neat though...