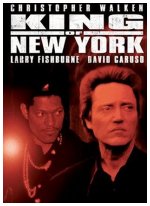 Abel Ferrara's stylish direction accentuates this gritty action film about a New York drug lord (Christopher Walken) who's just out of prison and determined to rule the streets again with a vengeance. But he also wants to use part of his drug-trade money to do good. So amidst his violent crusade, he donates it to a local hospital for the poor. The stellar supporting cast includes Wesley Snipes, David Caruso and Laurence Fishburne.
Drama, Indie, Thriller
27










Highly entertaining, even though it seems wrong in so many ways. Christopher Walken plays the role in such an unusual way that it is totally over the top, yet entertaining. The supporting cast is full of recognizable names, and the plot is amusing.