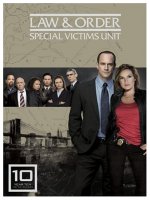 Law & Order: Special Victims Unit
1999










Tackling hard-hitting social issues ripped from newspaper headlines, this edgy police procedural follows members of the NYPD Special Victims Unit as they investigate sexual offenses such as rape, incest, pedophilia, torture and serial murder. Created by Dick Wolf, this award-winning Law & Order spinoff co-stars Christopher Meloni and Mariska Hargitay as seasoned detectives Elliot Stabler and Olivia Benson.

Drama, TV

8










A little depressing because the subject matter is pretty exclusively about victims of sexual crimes, but a good show.
27










One of the better cop shows out there currently. The entire cast is great, and most of the episodes are pretty solid story-wise.