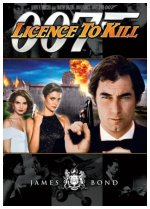 James Bond (Timothy Dalton) resigns from the Secret Service after a friend in the CIA (along with his new wife) is brutally murdered by drug lord Franz Sanchez (Robert Davi). With a score to settle, Bond partners up with pilot Pam Bouvier (Carey Lowell) and Sanchez's mistress (Talisa Soto). While avoiding the British government, Bond races across land, air and water in a whirlwind of action and suspense.

Action, Adventure, Spy, Thriller
27










Like in
Live and Let Die
, Bond is once more a glorified DEA agent. Plenty of action but not substance.