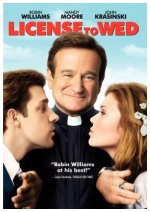 Newly engaged Ben Murphy (John Krasinski) and Sadie Jones (Mandy Moore) encounter a roadblock to their trip down the aisle when her unusual pastor, Father Frank (Robin Williams), insists they go through a tough and quirky prenup course before he'll marry them. Since Sadie dreams of having a traditional wedding at her family church, the two agree to the marital boot camp -- but find it puts their relationship through some unexpected challenges.
Comedy, Romance
27










Another mostly uncomfortable comedy. If you liked
Meet the Parents
or similar movies you'll probably like this.